Your Source for Preventative Eye Care
Routine eye exams are vital for keeping your eyes healthy and safe. An eye exam helps your eye doctor detect signs of ocular diseases and other health risks that may not be obvious otherwise.
At Total Vision Del Mar, our eye exams use leading diagnostic technology to provide accurate data in a comfortable environment. We use that information to update your eyeglass prescription and create treatment plans for any issues you face. With our help, you can spend less time worrying about your eyes and more time using them to do the things you love—like reading, driving, and spending time with family.Is it time for your next eye exam? Book an appointment with us today!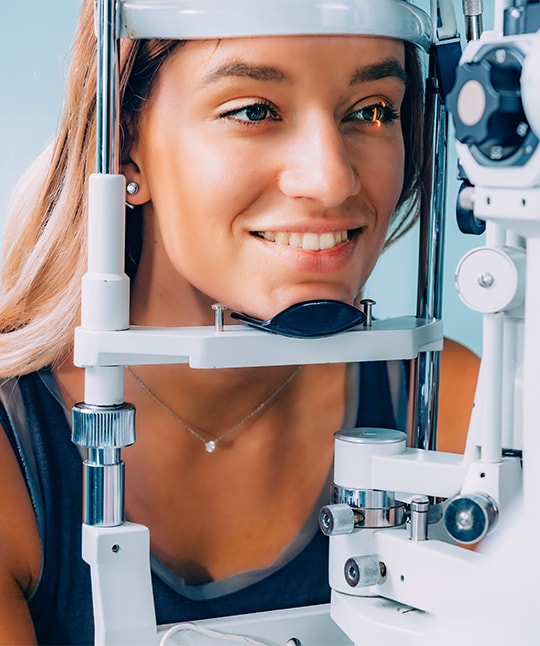 When Do You Need Eye Exams?
The American Optometric Association recommends that adults schedule eye exams as follows:
Annually from ages 18 to 64
At least once each year from age 65 onwards
At Total Vision Del Mar, we also recommend booking an eye exam whenever you have concerns about your vision or ocular health. The more often we see you, the more thoroughly we can track any changes to your eyes—and the faster we can respond to them.
Patients with specific risks or health conditions may benefit from having their eyes examined more frequently than usual. If we ever find signs that you require additional monitoring, we'll let you know as soon as possible.
What Happens in an Eye Exam?
Each eye exam takes approximately 30 to 60 minutes. If we plan to run additional tests that could make your exam longer, we'll tell you before your appointment so you can plan accordingly. If you have questions prior to your exam, please contact us, and one of our team members will answer them.Every exam begins with a few questions about your medical history, family medical history, and history of medication. We'll also measure your prescription if you already wear corrective lenses and give you a chance to bring up any issues you want to raise before we run tests.
The tests we run during your exam measure:
We'll also assess the health of your:
Some patients may require additional tests, including:
Book Your Exam Today!
You want your eyes to last a lifetime, and we want to help make sure they do. If it's time for your next exam, contact us today and let one of our friendly staff members book you an appointment at our practice.
Our Location in San Diego
Our practice is located in Carmel Country Plaza in Del Mar, diagonally across from the fire station. Please keep in mind we are closed every day from 1 – 2PM for lunch.

Our Address
12880 Carmel Country Rd D110

San Diego

,

CA

92130
Our Hours
Monday

:

8:30 AM

–

5:00 PM

Tuesday

:

8:30 AM

–

5:00 PM

Wednesday

:

8:30 AM

–

5:00 PM

Thursday

:

8:30 AM

–

3:30 PM

Friday

:

9:00 AM

–

3:00 PM

Saturday

:

Closed

Sunday

:

Closed